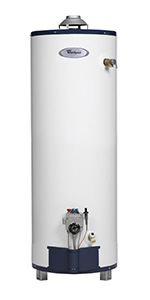 The benefits of maintaining your water heater regularly, outweigh letting it go until it fails. The main benefit of water heater maintenance is peace of mind. It includes less chances of breakage and leaks that could lead to serious water damage, potentially costing hundreds if not thousands in repair costs. What's peace of mind worth to you?
As arguably one of the most important appliances in your home, water heater repairs are not only costly, they can also be time consuming. Imagine having your water heater break on a holiday weekend when you have company or what if it goes out while you're on vacation, think of the damage you could come home to. The truth is, water heaters fail all the time from a lack of maintenance and unfortunately it's usually avoidable. Not sure how long it's been since it was last serviced? No problem, TWS Plumbing is here to help! Get the most life from your water heater by scheduling one of our qualified service technicians today.
Servicing Standard Water Heaters vs Tankless Water Heaters
Standard water heaters can be serviced by the homeowner in under an hour and should be drained and flushed yearly. This prevents the build up of corrosive sediment in the tank which can cause the glass liner to wear out prematurely and rupture.
Tanks should be cleaned thoroughly, routinely cleared of dust, dirt and debris around the unit. All valves, supply lines and any pipes on the unit should be checked annually for corrosion or leakage. Don't forget to check the manufacturer information manual provided with your unit for specific care instructions.
Pro Tip: If you hear popping, knocking or rattling sounds coming from your water heater, it needs to be serviced as soon as possible! These are usually indicators that large amounts of sediment have built up within the tank. Sediment is highly corrosive and substantially shortens the life of your water heater.
Tankless water heaters have many advantages, however in most cases require a qualified service technician to perform routine maintenance. Annual cleanings are much more important with tankless water heaters because tankless water heaters need to be descaled regularly to maintain proper water flow and pressure.
TWS Plumbing offers a Complete Yearly Tankless Water Heater Service that includes:
Complete system descaling flush to remove buildup from all internal parts, piping and the heat exchange..
Clean all dust, dirt and debris from interior systems and circuit boards.
Clean the water inlet screen for all scale and debris.
Thorough check of water heater system for leaks, corrosion and other possible malfunctions.
Maintaining your water heater regularly will extend its life and keep you in hot water for years to come. A few hours per year is all it takes. Call TWS plumbing today at 661-236-6089 with your water heater questions or to schedule a water heater service with one of our qualified technicians.