Is It Time To Have Your Water Heater Serviced?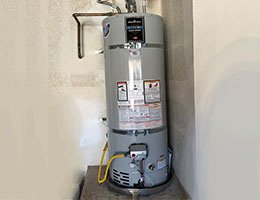 Your water heater is arguably one of the most important appliances in your home or office and often, one of the least thought about…until it stops working. Proper water heater service and maintenance is essential to maximizing energy efficiency and getting the full life out of your unit. No matter if it is a standard tank heater or a newer tankless water heater model, all water heaters need to have a yearly service and cleaning performed to keep them in good working order.
Servicing and maintenance may include draining and flushing the water heater to remove scale and hard water buildup, keeping venting free of dirt, dust and debris, and ensuring that all control valves and pilot assemblies are clean, in good condition and that all pipe joints are solid and free of leaks.
Antelope Valley Water is very hard on Water Heaters!
In the Antelope Valley and surrounding areas, the average life of a basic water heater is 6 to 10 years. Replacing them can be costly and often repairs are almost as much as the cost for a new water heater. The damage caused by a leaking water heater to the area and structure surrounding it can run into the tens of thousands as well! 50 gallons is a lot of water to soak into your walls and/or flooring if your unit was to rupture and that is assuming you are home to turn of the water when it happens. Don't take the chance of being without hot water for your morning shower or your home being flooded, have your water heater serviced amd maintained regularly.
Call TWS Plumbing Inc at 661-236-6089 to schedule your annual water heater service and maintenance now.
Needing your water heater replaced rather than serviced? We have you covered. Ask about our current specials on both standard and tankless water heaters.