Hydro-Jet Services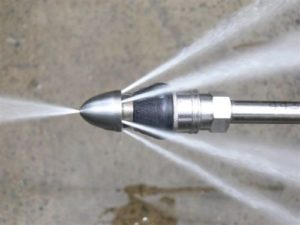 For the majority of homeowners, most of the time slow draining sewer lines are a nuisance at worst but in some cases can be indicators of a much larger problem on the horizon. If you have drains that continually stop up or a main sewer line that needs to be professionally cleared on a regular basis, you might want to consider having your drain lines and sewer cleaned out with our advanced hydro-jet technology.
Hydrojetting is performed with a powerful machine that sends jets of water at high pressure (up to 4000 PSI) to break apart blockages, grease, roots, hair and dirt from virtually any size pipe or drain. This process restores pipes to like new condition, removing the sludge that builds up after years of use and neglect and allowing waste to flow freely into the main city lines or into your septic system where it belongs.
During each hydro-jet servicing, we use our specialized camera technology to check your pipes for damage, cracks, holes, qlow spots and any other type of obstructions that may cause additional plumbing problems so you can feel confident that your home or businesses drains, pipes and sewers will flow smoothly and unobstructed for years to come. Hydrojetting can save you hundreds or even thousands per year in plumbing maintenance and repair costs.
Traditional drain and sewer clearing can also be done with a variety of drain snakes which can sometimes break old and rusty pipes and fittings. Because of this, hydro-jet technology is widely accepted and used in the industry as a safer and sometimes more effective means of clearing plumbing systems.
Hydrojetting is one of the easiest and most cost efficient methods of preventative plumbing maintenance you can do for your home or business. At TWS Plumbing Inc, we provide a 90 day warranty on all hydro-jet services. If we leave and your drains are still slow and not flowing easily, call us right away and we will be back to further inspect the problem.
Still have questions or interested in scheduling a hydro-jet service? Call TWS Plumbing Inc, your trusted Palmdale and Antelope Valley Plumber at 661-236-6089, you'll be happy you did and your drains will thank you!