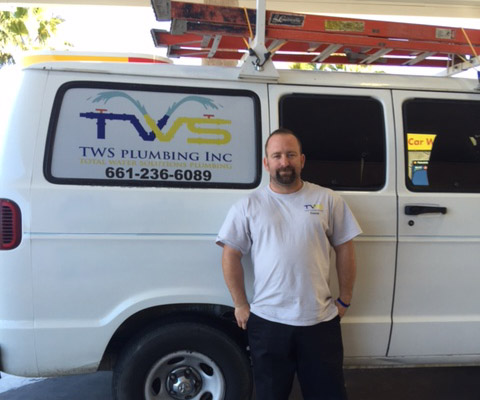 As a family–owned, full service, repair, replacement, remodel and installation plumbing, heating, and air conditioning contractor, TWS plumbing has been in business since 1995.
For three generations, TWS plumbing has been an integral and respected part of the Palmdale & Lancaster area plumbing and heating professional community. Since our incorporation we have provided our services to the residential and commercial markets.
Our highly experienced and qualified staff specializes in customer service. We offer personal service at the highest level. All service technicians are fully qualified and trained to repair your problems. All service trucks are fully stocked and radio dispatched for rapid response. Our large fleet of service vehicles offers you reliable, same day and 24 hour emergency call service in the Antelope Valley area.

Providing Water Saving Solutions
About 65% of our business is now green plumbing however, our plumbers are capable of handling any plumbing job from small repairs to complete facility renovation or construction.
Providing Indoor Air Quality Environments
Our award winning designers and technicians provide the most energy efficient and most comfortable heating and air system installations in the State of California.

Recycling & Sourcing
Not only do we recycle cardboard, copper, plastics, glass and steel materials, but we track material source information. We require knowing what materials are being used, and also where they were manufactured.